The Challenge
Gun violence is the leading cause of death for young men of color ages 15 to 25.
Each year, while not in the direct line of fire, thousands of children and families are traumatized by gun violence in their communities.
Young men and women who are hospitalized for gun violence and survive frequently return to the hospital's emergency department with similar injuries, getting caught up in a violent cycle of retribution and retaliation.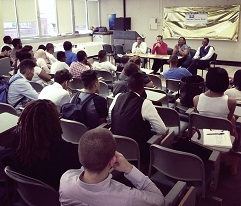 We fail our children when we do not provide them with safe and constructive alternatives to violence. Youth need to be creative, to be heard, and to be understood. Guns Down, Life Up is committed to finding solutions in our communities to interrupt the cycle of violence and engage our youth in activities that set them on the path to a better future.